Featured Image Credit: MLS/Inter Miami
Thousands of fans appeared to leave after Lionel Messi's substitution in Inter Miami's big win over Atlanta United.
Messi made his first start for his new club on Tuesday after producing a moment of magic on his debut against Cruz Azul.
He scored a stunning, last-minute free-kick to hand his side a victory last Saturday.
The 36-year-old donned the captain's armband as he walked out with DJ Khaled's son for the Leagues Cup match against Atlanta United.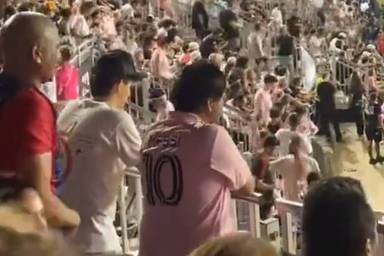 He delivered another stellar outing as he bagged a first-half brace and provided an assist in the second-half before being taken off.
Messi was replaced by Robbie Robinson in the 78th minute and his substitution seemed to spark a mass exodus at the DRV PNK Stadium.
Footage appears to show thousands of Inter Miami fans leaving the ground following the seven-time Ballon d'Or winner's exit 12 minutes from time.
A time-lapse video captures the moment supporters depart from the stadium, highlighting the mass exodus.
Despite Messi making his first start for Inter Miami, the Athletic report the 'stadium appeared maybe 80 percent full at kickoff'.
They claim that there were visible empty seats and official tickets still remained right up until the kick-off whistle.
Tickets were priced at $220-280 while some of the stadium's most expensive tickets also went unsold.
The report also states that weekday matches are generally a tougher sell for MLS fans. The temperature for the game may have also played a factor, with a heat index approaching 100 degrees Fahrenheit.
But as Messi stars for Inter Miami, herds of fans will likely flock to the DRV PNK Stadium to witness the superstar talent.