Despite being 36 years old and having only recently joined Inter Miami on a free transfer, striker Lionel Messi continues to be a focal point for media attention. Messi's influence is evident in the ripples he made in the US even before joining Inter Miami.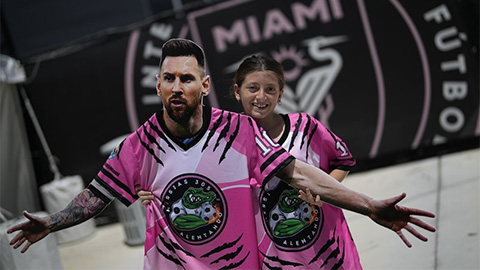 To welcome the arrival of Messi, artist Maximiliano Bagnasco recently completed a large mural painting of Inter Miami's rookie smiling brightly. The above mural is just one of many images of Messi appearing everywhere in Florida these days.
In addition to becoming a topic for artist Bagnasco to showcase his talent, the former Barca striker is also an effective catalyst to help sharp-minded businesses increase their chances of reaching customers. For example, the Kao Bar & Grill restaurant in the Hallandale beach area recently hired an artist to paint Messi's picture on the wall to attract guests.
Accompanied by the Spanish phrase "Anda pa' alla bobo!" (translation: Go away, idiot) Messi's too famous. This is the stormy message that Messi once gave to the tall striker Wout Weghorst of the Netherlands in the 2022 World Cup, the tournament in which he and Argentina became champions.
In addition, a series of brands of appliances, clothing, beer, soft drinks, and fast food are also taking advantage of Messi's reputation. With more than 100,000 Argentine residents living in Florida, Inter Miami's recruitment of Messi has really created a fever throughout the region.
It is not known how Messi plays in the new environment, but in the immediate future, he has helped increase the price of tickets for matches with the presence of Inter Miami dozens of times. According to the American media, it is likely that the striker born in 1987 will make his Inter Miami debut in the match against Cruz Azul on July 22.